Hi This is Swayam Dhawan,
Founder of Askmepixel Technologies
Helping coaches & course creators to get consistent cashflow & clients
without sales calls using hyper personalized chat funnels.
You've landed on my website from some of my resources available on the internet everywhere and If you are here you probably wanted to know more about me 🙂..!
And that's right because as a human we wanted to know about that person first whose resources we are planning to consume, there is nothing wrong with that.
So in this section, you can discover everything about me Why I do, what I do. 
Let me give a quick overview How I help online business owners in 3 ways? 👇
I share my knowledge via my Facebook group here, articles, and videos here.
I've created some in-depth training programs, to decrease your long learning curve and stop the roller-coaster ride. 
I offer consulting services (you must qualify first) to online business owners in DFY -Done for you, DIY -Do It Yourself, and DWY-Done with You based format.
But this is not my story, 😉 for that keep reading and you'll know me better. 
I've started my business journey in 2014, just after the 1 year of passing out from my Graduation in the B.Tech Electronics and Communication field. 
Well doing a job was never my focus, because I never wanted to do that and I have promised the same to my father in school days. 
The promise was I'm never gonna do a job, I'll offer jobs. 
and that journey toward fulfilling promise started in 2015 when I started providing web designing services and launched my First company named CodEye Technologies, how's the name, 🙂 sounds cool? hunh…
My first client paid me $100 for a website in 2015 pretty bad, I got you but that was first project and then another client paid me $200 for the almost similar kind of website, this time I charged double. 
Things were goinng normal, I was having multiple clients and I had started providing not only web designing but also Digital Marketing services. 
That was the time of Startup BOOM all over in India. 
So after little research my company launched Startup Initiative Program where our focus was to help startups to have all the services under one roof. 
I got 50+ businesses started working with me in a single financial year and revenue was good…
But I was not satisfied..
Because I was providing website designing and digital marketing services which includes SEO and ads on different platforms. But you know I was not satisfied because I was looking for a solution which can help my clients to grow faster and…
I started doing research and I got to know about Messenger chatbots, started testing that and…
BOOM!
The results were a real gamechanger, I applied bots to my business and made 2X growth in almost half time period. I thought isn't that be good If I start helping businesses by installing chatbots?
and I did exactly, but before diving into that I made a lot of testing here's what I was able to achieve.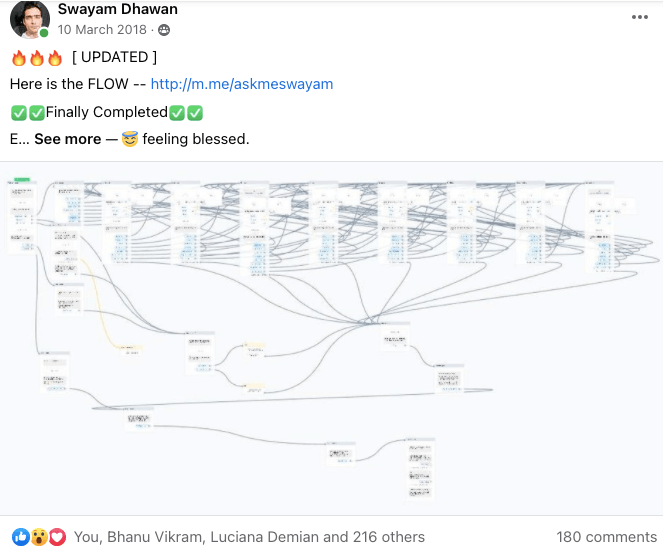 Holy F**K!
Do you see how many people commented on that post!? 😯
In just a few days, hundreds of people said that they loved what I shared.
And many people asked if I could help them to install my chatbots and automated systems for their business.
I had never done so before, especially not with in Chatbots 😅  But I decided to give it a try.
That was the time of March 2018 and after that I started working with clients & helped them to grow their business with Chatbots,
The good thing was, without having websites, blog and spending thousands of dollars on ads, Business started booming for my clients and also for me.
I were able to close 150+ clients in 2019, over 30+ agency partnerships worldwide and when covid hit in 2020 it was 2X during that time. 
and people started asking IF I can help provide training so that they can start sell in automation with my Proven business automation systems and chatbots. 
That's how I entered into the coaching & consulting field and started helping online business owners to sell in automation. 
I just started posting about how easy it is to grow business with chatbots inside my facebook group and people started asking me If I have nay kind of courses or workshops or training program. 
BOOM I started getting paid for talking about the things I like the most. 
To help other online businesses I started hosting workshops, challenges to let them know about how this automation system works to sell in automation. 
at the same time I started improving my skills like I started merging Email automations with chatbots, websites, push notifications, zapier things (now I use pabbly) to automate almost 80% of business tasks and building smart automations. 
In 2021 I got interviewed by other business coaches and have build some good partnerships to start working on my Personal brand. 
But still after all of this every morning I feel like…
It's just getting started 🙂
This is all about me and I've moved to work on my plans of 2022 with focusing more on my blogs and youtube.
You're here till the last because you wanted to know me and wanted to Sell in Automation using chatbots and Business automation systems. 
I can help you with that but, I wanted to know more about you a little bit. 
That will help me to create a more better content and offer you a personalized help specifc to you and to grow your business. 
Need 1:1 help? I'd love to help!

Get feedback, help with implementation or brainstorm about your strategy
Get 60 Minutes Consultation and Have a Complete Business Growth Blueprint.